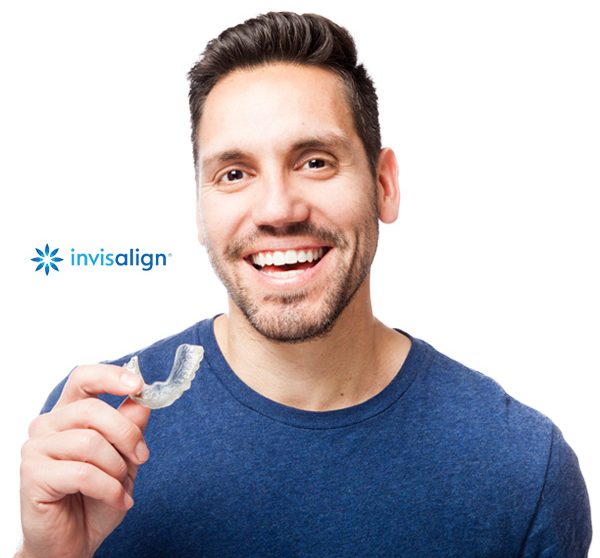 Invisalign® in
Suffolk, VA
Did you know that you can straighten your smile without ever having to wear noticeable metal braces? Invisalign is a great orthodontic alternative for people who want a convenient, more subtle way to improve their smile. Instead of using brackets and wires, Invisalign aligner therapy uses clear trays that fit snugly over your teeth. Schedule a consultation at Riverfront Dentistry today to learn more about how to make your dream smile a reality.
Make Appointment
Why Choose Invisalign®
There are so many great benefits to Invisalign! Many patients find that the greatest advantage of this orthodontic option is that the aligners are clear, which means you can keep smiling with confidence throughout your entire treatment process. Many people won't even be able to tell you're wearing them!
Another benefit is that the trays are removable, so you can brush and clean both them and your teeth easily, you can still enjoy all your favorite foods, and you can take them out for special occasions. Better still for your busy schedule, you'll only have to come in every six to eight weeks for a check-in.
Invisalign® FAQ
What can Invisalign fix?
Invisalign is used to correct crowding, spacing, and misalignment. Misalignment includes overbites, open bites, and cross bites. During an Invisalign consultation, we'll go over how the treatment can benefit you specifically.
What are the aligners made out of?
Invisalign aligners are made from medical-grade, biocompatible, BPA-free plastic. This plastic is smooth on your cheeks and gums.
How long does Invisalign treatment take?
While treatment time varies depending on the severity of each unique case, we can say that it's often significantly less than how long traditional braces might take. With braces, many patients end up having to wear them for a few years, while average Invisalign treatment times are between just 6 months to a couple years.
How much does Invisalign cost?
Like with other treatments that we offer, we can't determine a good estimate until we go over your specific case and come up with an individualized treatment plan. The complexity of the work needing to be done and how long treatment will take are both factors in the cost. When you come in for an Invisalign consultation, we're happy to go over financial details with you in more detail.
How do I take care of my Invisalign trays?
Since Invisalign trays are completely removable, you can just pop them out when you're flossing and brushing your teeth. Before you put them back in, just brush them inside and out, rinse with water, and put them back on! They fit right into your daily routine.
Contact Us